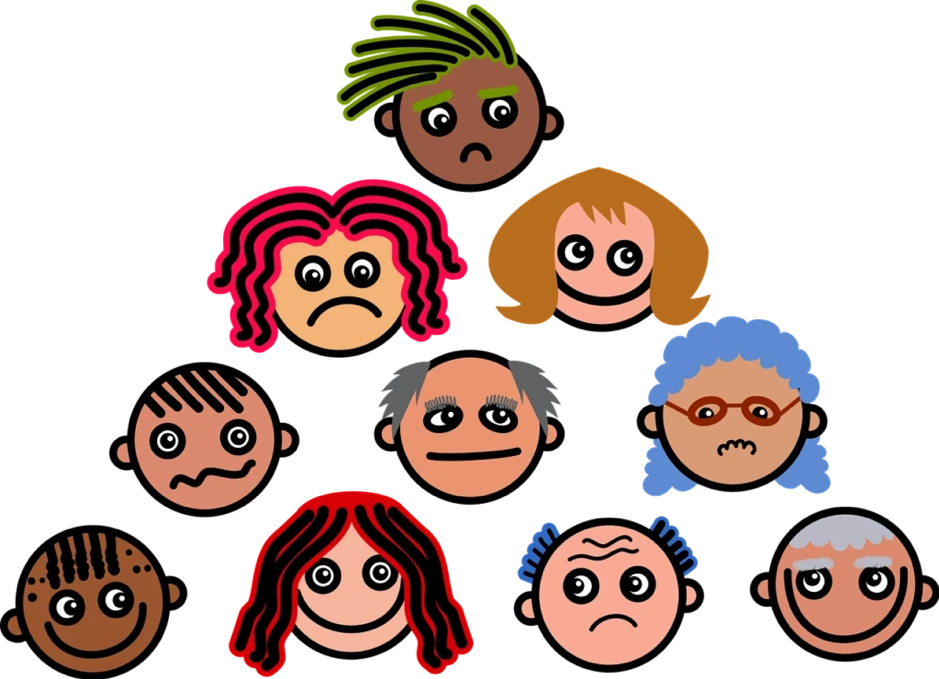 ---
In November, I gave a keynote at the Trustech Event in Cannes. My keynote focused on the opportunities that the financial sector is presented with when it comes to femtech.
We cannot talk about femtech opportunities without touching the diversity status in the financial sector especially on senior and executive level. We cannot understand and serve a diverse customer base if we don't have a diverse workforce. I don't mean simply having a diverse team, but actually including and involving them in each and every stage. Simply inviting people to the table and not allowing them to have a word in, doesn't equate to diversity + inclusion.
---
The key takeaway for my talk was for the delegates to honestly challenge themselves when back at their workplaces. I asked them to answer these questions, and so can you:
---
1.CUSTOMER DIVERSITY
Who are you designing the products/services for? By this I mean, who are your customers and how well do you know them? I want you to walk a day in your customer's shoes. Then observe the customers when using your products. Lastly, I want you to talk directly to them. What do your customers buy? When do they buy? Why do they buy? Where do they buy? (How? When? Why? Where?) Buying. Observing. Talking
---
2.PRODUCT DESIGN TEAM DIVERSITY
Who is designing your products/services? How diverse is your product design team? Can the product design team connect with the consumer? If your customer base is diverse, yet, your product design team is homogeneous, how on earth are you able to understand the needs of your consumers?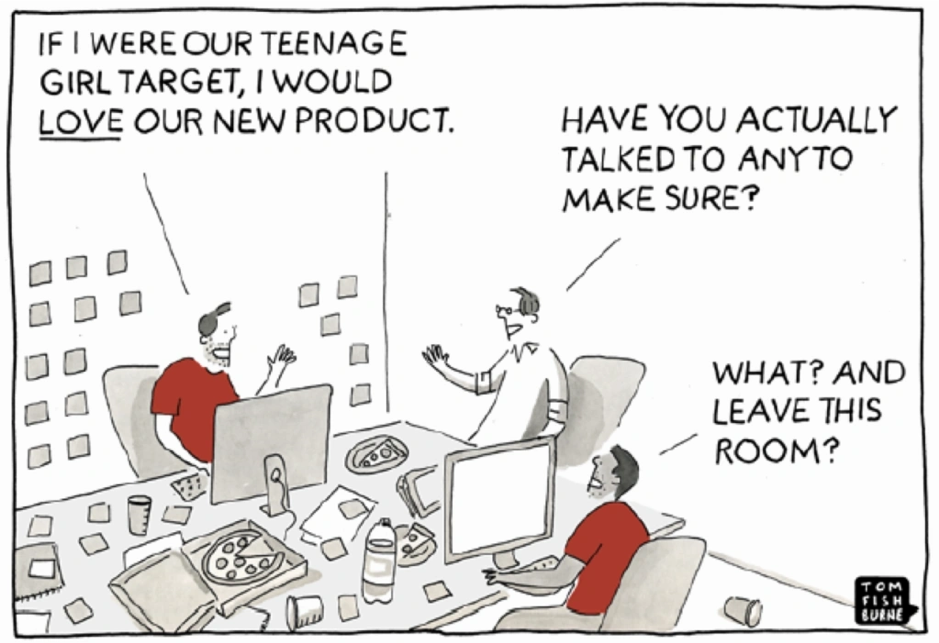 ---
3. WORKFORCE DIVERSITY
What are the demographics of your workforce? Especially the P+L holders and key decision makers? Simple diversification of product design team doesn't necessarily mean that what you get into the market is as diverse as your consumer base. The P + L holders, executives and key decision holders, equally, have to be diverse. In order for them to understand, the need, urgency and product portfolio, they have to have the capability to relate to the consumer. Is your marketing team diverse? Launching products without understanding how to market them to diverse consumer base will make your efforts futile. This makes it very crucial for companies to ensure that they have diversity in each and every stage of their supply chain.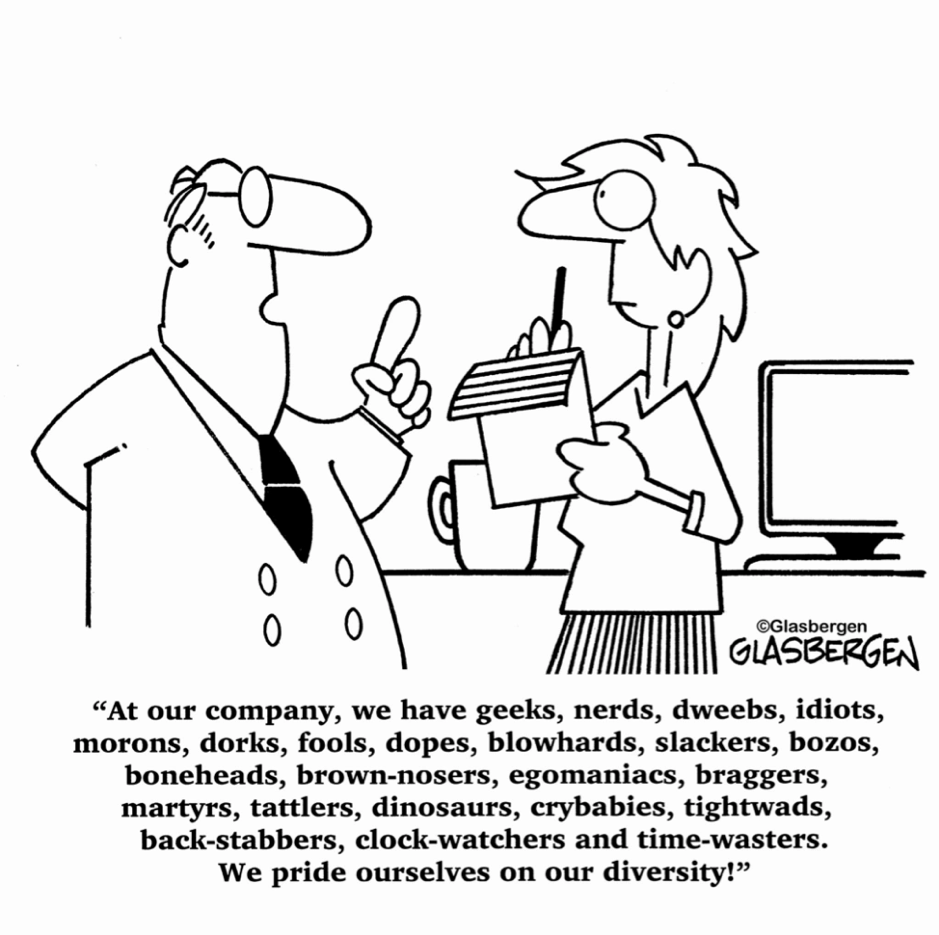 ---
We all know about diversity or lack of especially in tech and financial services and seen many researches that have been done to show the correlation between financial performance, profitability and diversity. Which is absolutely ridiculous given the fact that women are approximately ½ of the world's population.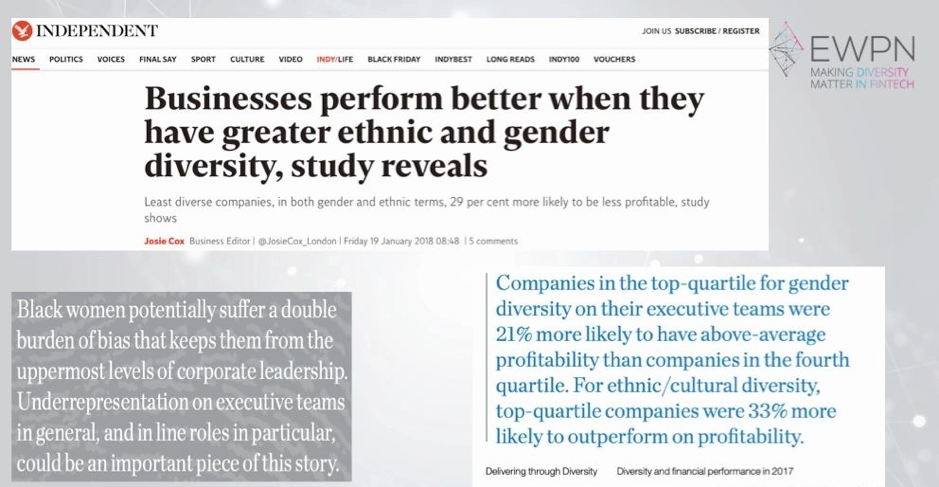 So how crazy is it to even imagine that companies design products and services only considering the male perspective. This means that companies are not tapping into potential of knowledge that women bring to the table.
---
It's not all doom and gloom for the female consumer. While the rest of the industry is sleeping, the global women's market is estimated to be around $17 trillion! This is without considering the fact that household decision making is made by women to the tune of over 60%-70%. Yet, year in year out, financial industry product-service designing has not taken advantage of this huge opportunity and neither has Fintech business models aimed at the female audience. The decisions makers, P + L holders, and executives are predominantly male, which leaves them without insights from a female angle.
---
The financial industry, like many other industries, continue to make same mistakes over and over again.
Mistake one: Financial institutions have for a long time grouped male and female customers into one group. The truth is men and women are very different. Men and women have very different attitudes towards finance.
Mistake two: Financial institutions assume that all they need to do is create 'pink' products and that should do. Wrong. Serving women is about tailoring value propositions to suit each sub-segment within a holistic view of their needs
Mistake three: Assuming that there is no business case to support this.
---
Things are changing faster than the industry is realising or even prepared to admit. The female consumer is tired of being ignored and is taking matter into her own hands! We continue to see a huge rise of the sheconomy/disruptive dollar due to a number of cultural shifts. The business world including financial sector is totally unprepared for the largest disruptive force in business. Because the current systems are very skewed and homogeneous, the ability for financial institutions and service providers to build holistic solutions is somewhat limited. Financial industry can no longer afford to be gender neutral. Women and men are wired differently.
---
While this worked well in the past, it's no longer working and we will continue to see a shift as more female consumer demand more and more. Gone are the days when financial institutions controlled the products and services, now it's the other way around. Consumers know what they want and financial institutions have to offer that. So, the product design methodology has to shift. Financial institutions have to start from what the customer wants and then backup from there.
Fundamental shift in consumer buying, belief, and behavior patterns.
Greater scrutiny and dissatisfaction of products and services.
Consumers develop preference for female-designed products
Female consumers become less willing to engage with branding and messaging that is not authentically crafted with female-driven insights.
---
Opportunities for Financial Institutions and service providers
So what opportunities are we talking about that can help financial institutions tap into this trillion $ women's market? See some (not all) available opportunities:
Wealth & Investments (Advising/Management)
Financial Inclusion
Funding opportunities (female owned businesses)
Women Tailored products (not just ''pink'' products)
Rise of Female Investors & Gender lens investing
Financial literacy (education/availability of information)
Microfinance & Lending (table banking)
Muslim Women & Islamic Banking
---
1.Wealth & Investments (Advising/Management)
If you had a chance to read The Credit Suisse Research Institute's Global Wealth Report, you will see that ,women now hold 40% of global wealth. And this is not considering that they are in charge of making the 60-70% of the financial decisions of their households. So just how big is the opportunity and the disconnect? According to Boston Consulting Group Winning Women report showed that only 2% of wealth managers said they considered women to be a specific client segment and had adapted their service model accordingly, and you can clearly see the disconnect. The financial services industry continues to view its customer base monolithically and, in many cases, treats all of its customers like men, even though women have very different needs and attributes as investors. Women tend to save more and take a longer-term investing view—and they live longer to boot. But financial firms don't seem to get it, and they are missing out on a major opportunity because of it.

---
2.Funding opportunities (female owned businesses)
There is a rise of female entrepreneurs, but they face a huge challenge when it comes to access to funds. Looking at emerging markets, majority of the small businesses are owned by women. It's even embarrassing to look at the figures that show that in 2017, female founders got ONLY 2% of VC funding. 2%.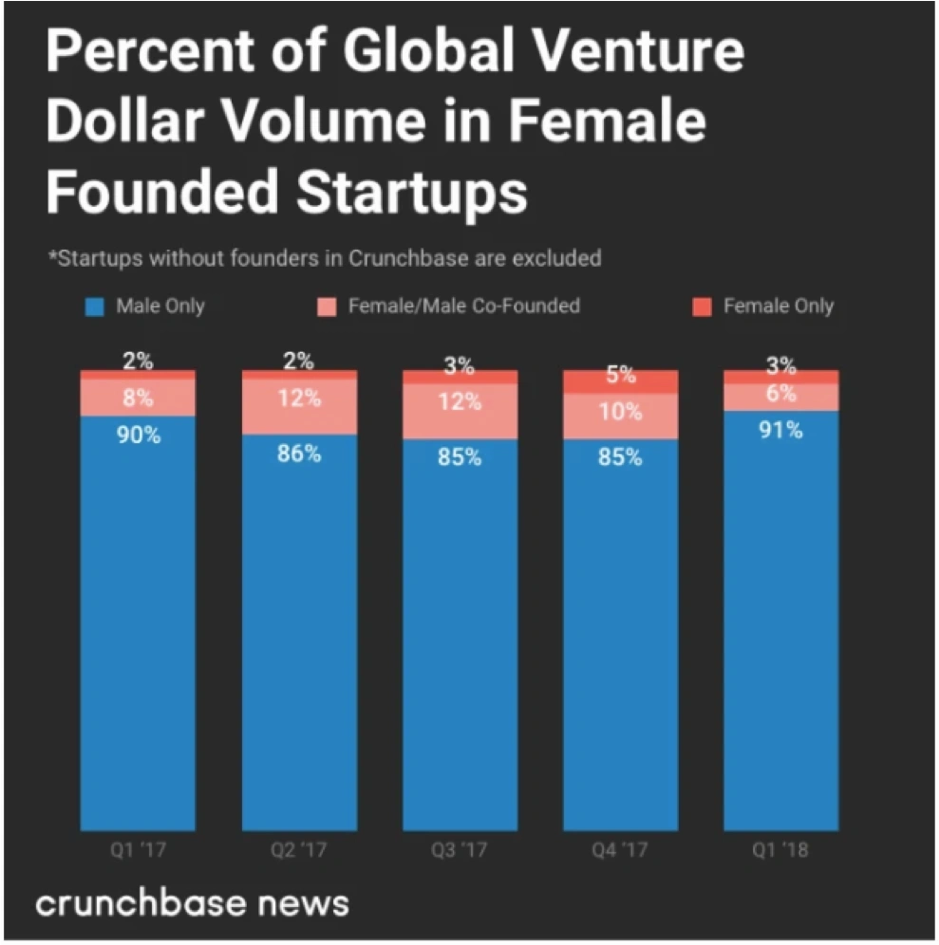 This is causing an uprising where women have had enough of taking scraps. We see an increase in women entrepreneurs as women begin to innovate products based on their own experiences and pain points. Who is better placed to design a product or service that fits a woman than a woman? We see a new rise of women-centered innovation: products and services designed for women by women. The investment ecosystem is unprepared to understand this opportunity, much less identify, invest in, and nurture this next generation of companies. The coming shift will have deep implications for the role women will play in the future of business, tech, and innovation.
As advertising rarely reflects women's perspectives or needs, women have learned to rely on the recommendations of other women. Women have formed their own networks to share product referrals in order to understand the efficacy and fit of a product before buying. This also accounts for the very different behaviours of men and women online. Women share and refer content 62% more than men; and use social networking to form communities, while men prefer content-oriented sites that can increase their status. The implications of this are profound for new product adoption rates, because women operate as organic evangelists. As women find new products that they like the word will spread quickly, translating into faster uptake and adoption by other women. Chances are even higher when the products are designed by a fellow woman based on female pains and needs. Yet, the investment community is totally sleeping on this, assuming that it is business as usual!
---
3.Financial Inclusion.
According to the 2017 World Bank Report, 56% of the unbanked population, or 980 million people, are women, and the gender gap has barely changed since 2011. Mobile money has helped in closing the gap, but women are still left behind. The financial sector has a massive opportunity to tap into this sub sector by innovating and designing products that reach the under banked and un banked. By offering not only access to accounts, but loans and other services as a package, many financial service providers can tap into this humongous opportunity.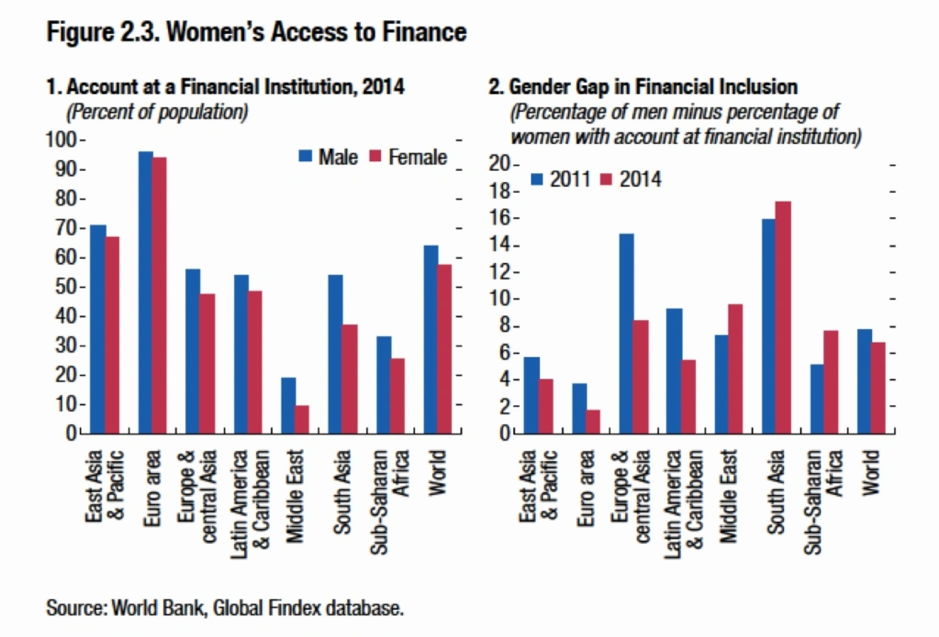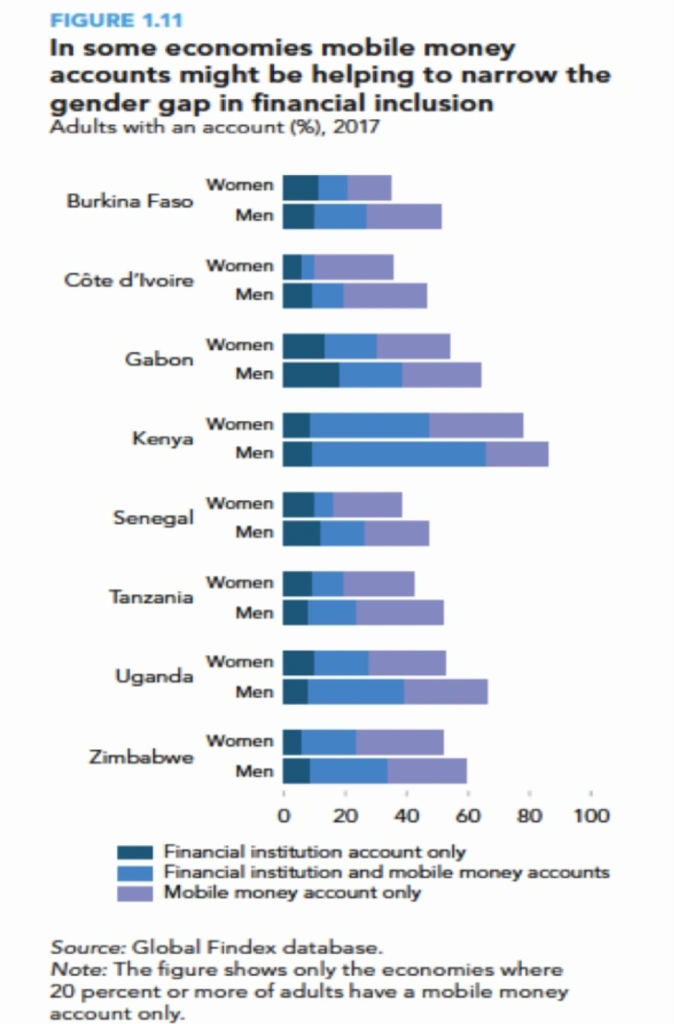 ---
4.Working Muslim women
Working Muslim women are a trillion-dollar market. Due to migration, and in particular millennial women across the world, majority of them are joining the workforce for the first time- nearly 155 million. Their combined earnings would make Muslim women the world's 16th richest country. Workingwomen and their disposable income represent a huge new market, with earnings that amount to nearly $1 trillion. The new generation of workingwomen is worldly and digitally connected. They are tapping into and creating new demand in a wide variety of fields, from education, health and food to finance, fashion and IT. Gig platforms and e-commerce are an unprecedented avenue of economic opportunity for Muslim women. Many industries have zero clue or have even bothered to consider Muslim women a different customer segment. By doing so, services and products offered do not meet most, if any, needs that are specific to Muslim women.
Starting on January 1, the International Monetary Fund (IMF) will include Islamic finance in its financial sector assessments of select countries, evaluating the regulation and supervision of Islamic finance institutions under Shariah law by incorporating guidance from the Islamic Financial Services Board. The decision is a game-changer: By green-lighting oversight of Islamic banking, the fund seeks to speed up the incorporation of a large and expanding set of institutions, and the markets they serve, into the global financial system. Yet, the financial sector is another" sleeping dog" like many other sectors; totally oblivious of this market. ****There are 12 sharia-compliant banks in UK***
---
These are some examples (not all) that were covered in the keynote in relation to opportunities that the financial sector can tap into.
---
If you would like to receive a copy of this presentation, or would like to have me or someone from European Women Payments Network (EWPN) give the presentation about how your institution can tap into this $ trillion market, contact me on: via info@ewpn.eu
---